Overall, being a first time author, with no name recognition. It went good. Oh hell, IT WAS AWESOME!.
I sold nearly half of the books I brought down. I was hoping to sell all (we all hope that), but I think the amount I sold was still very good.
Some highlights and praises.
One woman had taken a copy she got last week to California. Her niece is a big Twilight and True Blood fan. So one day, her niece makes the woman sit down to watch Twilight. The niece picks up my book, scans it, starts reading it while the movie is going. She didn't realize the movie had ended and WOULD NOT give the woman my book back! So she had to buy a new copy!
Necks were bitten, but sorry until the pictures come out, it's hard to explain why....
I got another local bookstore interested in carrying the book, the woman did not have the authority to say okay, but she will help me set up a meeting with the right person.
I met another woman that has fallen in love with one of the characters (Vincent). When she found out that he is the main character of the next book. She wanted to pre-order three copies that night.
But the best part of the night was meeting the people and talking with them. The conversations were about the book, how I did it, why I did it, how much they like it, etc.
I could get used to this.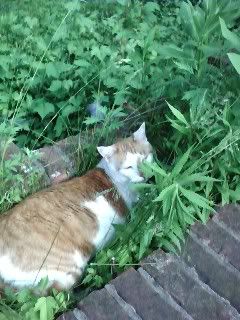 One of my best customers, didn't buy a thing, but purred encouragement.
By the way. It was such a success, we are setting another up in the middle of the summer on the weekend.